True North Ranch offers a respite for animals and animal-lovers near Woodbury.
With its extraordinary white barn, sprawling pastures and a wide-open sky, True North Ranch is a truly unique horse boarding facility tucked into the east metro. Located 20 minutes southeast of Woodbury, the ranch is situated in Hastings, close to several trail-riding parks like Lake Elmo Park Reserve and The Gateway, and is home to 74 horses (plus eight goats, three cats, one dog and three newly-rescued mini ponies).
In April 2018, new owners Erin and Eric Olsen took ownership of the property, and say they've "been enjoying their little slice of heaven ever since." However, if you would have told them three years ago that they would own a horse boarding facility, they would've laughed.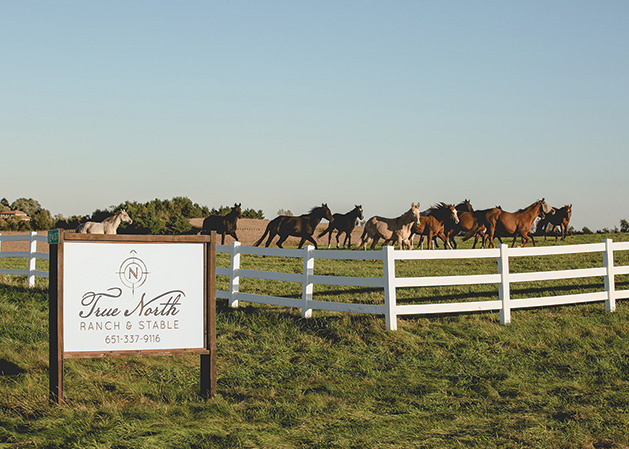 Color photos by Rebeca Paro Photography
Having both owned individual businesses for several years—Erin in the wedding industry and Eric in the restaurant industry—the ranch was a huge change of pace for them. "Neither of us came from the horse industry—very unheard of for boarding facilities. But, both of us felt a deep draw to the property and the business," they say.
For the Olsens, the path to the horse industry began when they both had reached the point in life when they asked themselves—and each other—what was next? It was then, Erin says, that the ranch popped up for sale on her Facebook feed.
"I've been a horse lover all of my life. At that time, we had one horse and knew we would be getting another one soon. My family enjoys riding and my husband had spent the last two years expanding his knowledge of plants and his love for growing things," Erin says. "So, the combination of horses and growing hay just made sense, coupled with the fact that the ranch was so close to home."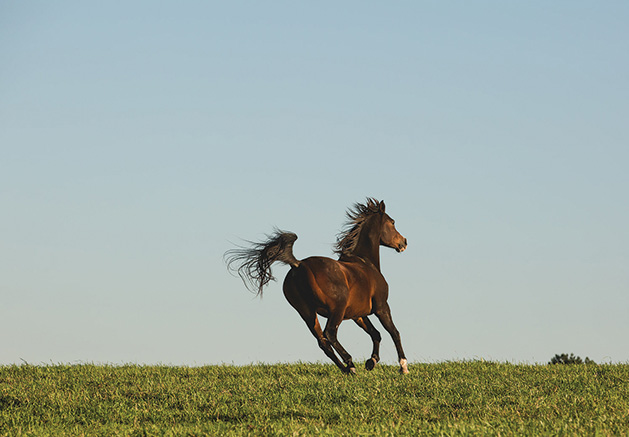 The ranch was especially attractive to the Olsens since their daughter is in school and they had been looking to move Eric's parents closer—knowing they wouldn't have much family time unless everyone was close by each other. "So, with all of us and the two horses, it took us one look at the ranch, and we knew it was our future," Erin says.
Their hope is that the barn can be a sanctuary for horses and their owners alike. Their first priority is to provide the best quality of care for the horses that call True North Ranch their home. So, they hired a full-time Barn Manager, they constantly research the best ways to care for horses and have made improvements to the property.
In addition to boarding, the Ranch is home to the HayLoft. Erin says the Hayloft was started out of "their deep desire to connect as many people as they can with the incredible healing powers of horses and animals."
The Hayloft offers goat yoga, horse yoga and barre (the only horse barre class in the world!) to people of all ages. "It's a little bit yoga and a whole lot of animal therapy," she says. They are excited to be expanding the Hayloft's offerings this year to include camps for children, retreats for adults and other special events.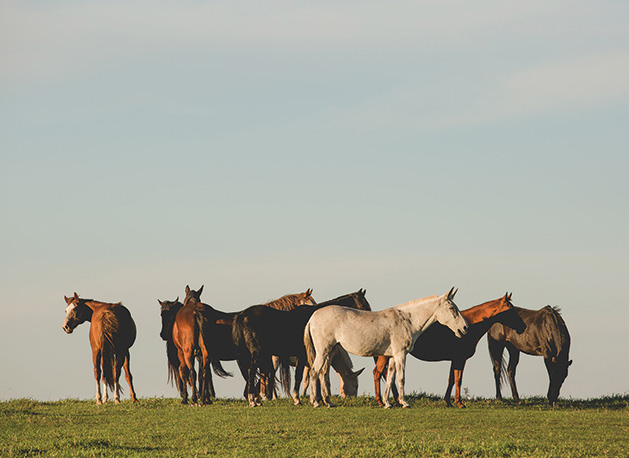 Getting Involved
True North welcomes people to get involved by volunteering. Volunteers must be at least 16 years of age and help with things such as barn chores, grooming horses, clearing trails and cleaning up horse manure. Volunteers also help at the Hayloft, where children and adults get to the full equine experience. For every six hours worked, volunteers may receive one hour of ride time or one 30-minute lesson.
Olsen says, "We want our place to be a tight-knit, supportive community. I think we are accomplishing just that! And, no matter how people are introduced to the ranch, they believe that as well."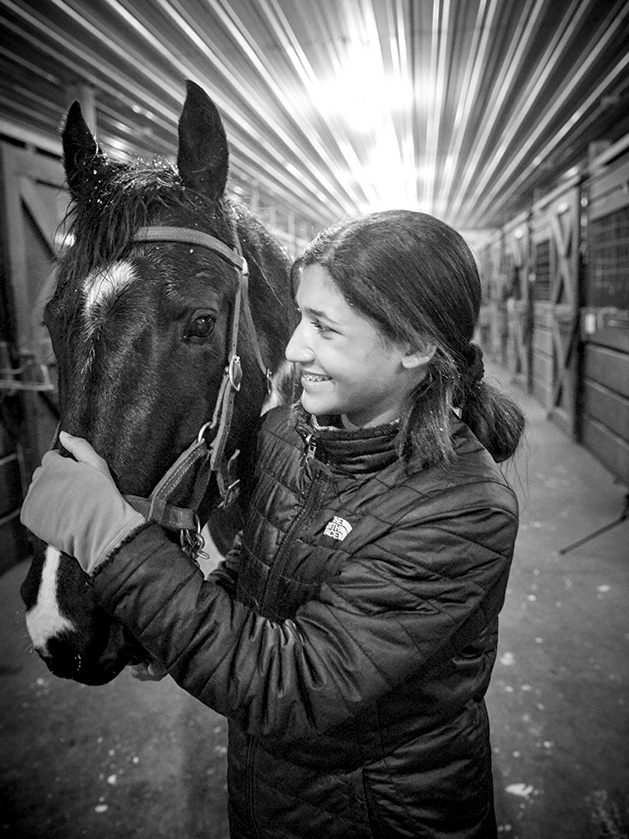 Navina Harris with her horse Honor.
Meet 15-year-old Navina. She currently attends East Ridge High School and is brand new to the ranch—but decided she wanted to own her own horse at the age of 14. She had already been around horses and has taken riding lessons. Her parents told her they would support her dream, if she could raise the funds.
Navina and her family attended the same church as an owners of a 7-year-old Paint horse (a specific breed) named Honor. The owner invited Navina to meet her herd and go for trail rides—and she fell in love with Honor, describing Honor as "very friendly and curious."
"[The owner knew] about my dream to own my own horse, and said that I could purchase Honor when I was ready. I was ecstatic and could not stop thinking about her and the two of us spending time together," Navina says.
So, Navina worked hard and earned funds by doing farm chores, pet sitting, baking for friends and by inviting people to support her goal through a GoFundMe page. After six months of hard work, the owner saw the determination and decided that Navina could do any early purchase agreement for Honor, and pay the remaining funds over the next year.
"Having Honor is a dream come true. My parents helped me take my big goal, break it down into a plan and encouraged me to go after it," she says. "The process taught me to go after my dreams and work hard. I hope to train Honor in jumping and ultimately to do everything."
While earning funds for Honor, Navina was introduced to True North Ranch. "Honor's owner asked if I wanted to help with a job taking down horse fencing that bordered the True North Ranch. While working the job, I saw so many horses—they looked happy and I thought it would be a great place for my horse. True North was recommended to me by a lot of people I had met in the horse world," she says.
As a new horse owner, it was important to Navina and her family to have a trusted place with a community of knowledgeable people and resources. Navina says that the Olsens have been very kind and welcoming to their family, also very helpful resources.
"All of the people at the Ranch are really friendly, caring and willing to help. When I visited there, I also had the feeling it was the right place for Honor," Navina says. "We are happy that Honor has a place to call home … Erin has offered to arrange a teen meet up so that I can meet other people my age that are boarding at True North Ranch."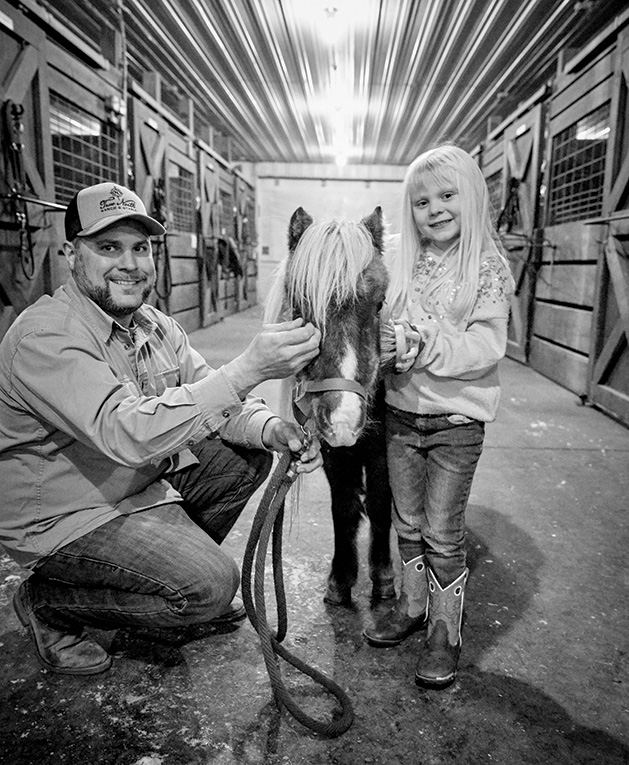 Eric Olsen and daughter Aubrey with their pony Svenna.
Boarding at True North
Another boarder at True North Ranch is Amy Niebeling. Her oldest daughter has been riding since she was 7 years old. And though many little girls go through a stage in their life when they adore horses and eventually their interest fizzles out, for Amy's daughter, it was the exact opposite.
So, when her daughter was finally old enough to care for a horse, Niebeling agreed to buy her one. Her daughter and their horse, Kimber, had three fabulous years together until her daughter decided to join the Army, and they decided to sell their horse. The first few sales fell through, and Niebeling found herself at a crossroads—knowing she didn't want to put Kimber through anymore, she called their Vet, Stillwater Equine, who recommended she call Erin with True North Ranch.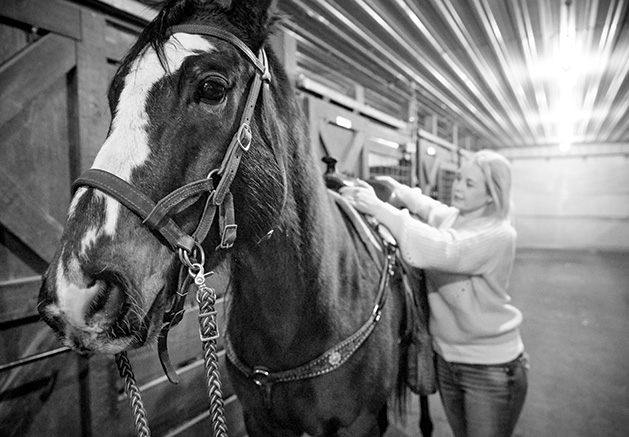 "Upon calling Erin, I explained that I was raised in a family that rode horses, my daughter rides, but I have zero experience or knowledge in the equine field. Erin asked why I decided to keep Kimber, to which I quickly responded, that this horse was meant to stay in our family," Niebeling says. "While talking with Erin, it seemed as though the stars aligned, and I had to follow my heart. We decided to meet so that she could show me the grounds."
After meeting Erin in October 2018, and walking the property, Amy was 100 percent certain that this was Kimber's new home. "The Ranch is beautiful; the people are friendly and welcoming. There are many new riders like myself, but there are also experienced riders, which creates a solid balance for friendships and kinship," Niebeling says. "Erin, the owner, and Nadia, the barn manager, are always willing to answer all my questions without judgement—no matter how silly they might be. They are completely responsive to the needs of all the horses and their owners."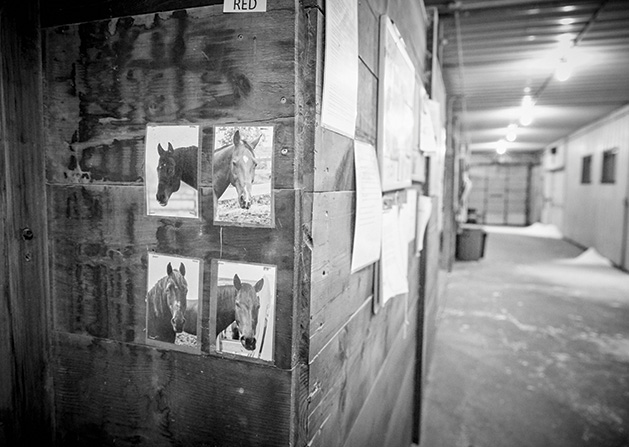 From the beginning, True North's vision and purpose was to connect the community. "The Ranch was born out of the idea that life is a direction, not a destination. And, that once you know your True North, that path is easy," Erin says. "For us, the ranch is our True North; it is a direction we never knew we would take, and a path is leading us on the most incredible journey of our lives. As we are eager and blessed to share the joys, and as we grow, it is our deepest desire to share that with the community as well."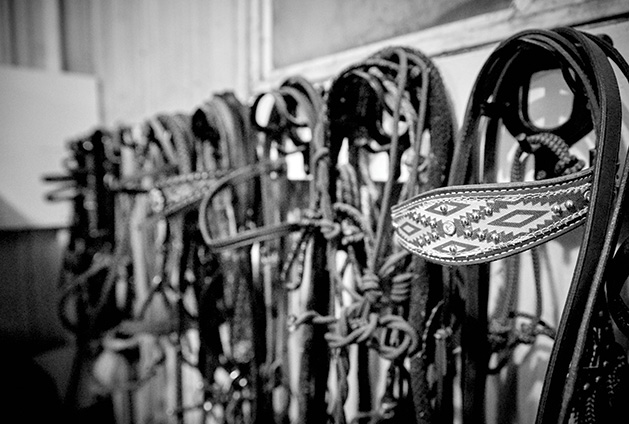 True North Ranch
12407 80th St. S., Hastings
651.337.9116
Facebook: True North Ranch
Instagram: @truenorthranchmn