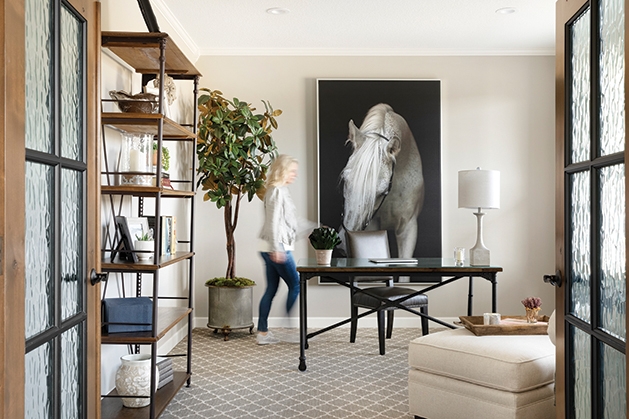 Level up your home office with tips from Jason Fabio of Ispiri.
Working from home (WFH) has gained unlikely popularity following the COVID-19 pandemic. Although many were originally forced into this work setting, many are now opting not to go back into the office in favor of working from home. This can be beneficial for both the worker and the company: Workplaces have found higher productivity rates and workers enjoy the lack of drive time, the ability to run a wash cycle while in a meeting and being able to wear more comfortable clothing, to name a few benefits.
In order to completely take advantage of the WFH lifestyle, it's important to have a functional workspace. But getting a workspace set up is often easier said than done. Jason Fabio, founder and president of Ispiri, has some tips for setting up your home office.
Have a good space for video calls.
With video conferencing platforms, such as Zoom and Skype, becoming popular methods for companies to hold virtual meetings, it's important to have a workspace set up to give a professional look during your call. Having good lighting is key in getting a visually pleasing image. Fabio says the biggest factor in lighting is to have it come from in front of the subject, not from above, below or behind.
"Stand in front of a mirror in a bathroom with an overhead light and notice all of the shadows," Fabio says. "It's the same thing in any room with overhead light. Having the light in front of the subject eliminates those shadows."
Windows also provide great, natural lighting and work well when in front of the subject. Fabio says to avoid having windows in the background, as it can lead to bad video quality. Moreover, he says to add plants or artwork in the background for a professional look—as long as it isn't too distracting. Neutral wall colors are also preferable.
Purchase multi-functional office furniture.
Although not all homes have space for a designated office, it's still possible to have an effective workspace. Fabio says to look toward pieces with multiple functions. For example, if you're working in the bedroom, he recommends using a multi-user dresser with a fold-out desk to utilize the room but not take up the space.
Trend alert! Fabio says designing home offices that double as a sitting room is popular. For example, use filing cabinets that look like end tables—usable storage with a relaxed look for friends and family.
One last option Fabio suggests is getting a custom desk or table made by the Ispiri team. "We can make something similar to a hide-a-bed," Fabio says. "When you're done working, you can just fold it back up into the wall." Keep clutter out of the way while keeping the space functional as more than just an office.
Have your office close to social interaction.
It's no secret that our bodies and brains need daily interaction, and the WFH lifestyle can limit those needs. Increase your daily social interactions by keeping your office space near the "central hub" of your home. Fabio says placing an in-home office near the front of the home is trending. "We're seeing a lot of homes have the dining room on one side and then the office on the other," he says.
Another popular spot includes near the kitchen or dining room, where children or a spouse might frequent throughout the day. Having quick interactions with others in your home throughout the day, instead of being isolated in one corner of the home, is one key to staying happy while working from home.
Have your child's workspace close to you.
Adults aren't the only ones who need a home workspace. Children end most school days with homework. And, if there's a chance of doing distance-learning again, it's important they have a proper area to get their work done. Fabio says most parents lean toward having their kids work in a space close to them, and the kitchen is a popular spot. "This way [children] can get social interaction, too, and parents can keep an eye on them," Fabio says. "It's a lot better than having them stuck in their room all day."
Fabio says some families use a nook right off the kitchen, but an island in the kitchen is preferred. "Islands can be designed with outlets and USB ports, so they can use their computers," Fabio says. "Those outlets can be designed to be hidden, so the island is still aesthetically pleasing."
If you're stuck, consult an expert.
Trying to design something in your home can be intimidating. Fabio says if you ever get stuck, don't be afraid to reach out to a design firm. "They'll help you figure out what's not working, what the space is intended for, how many people will be using it and if there are any special needs," Fabio says. "They'll take the information and make a design that fits well."
Fabio also says a design firm will take things into account, such as lighting, audio and hiding all of the cords, something which is often overlooked.