Terry Stille biked every trail, county highway and public street in Washington County.
"My wife wasn't that impressed when I told her," says avid cyclist Terry Stille. "But once she realized the scope of what I'd done, she said she was impressed." What his wife hadn't known was that he had taken on the massive journey of biking every trail, county highway and public street in Washington County. A quest that took just about six years to complete—but, shockingly enough, Stille hasn't always been a cyclist.
Nearly 15 years ago, Stille underwent a total hip replacement—at the ripe age of 42. He'd once enjoyed impact sports, such as running and volleyball, but couldn't any longer. Stille, now age 57, started cycling as physical therapy and just never stopped.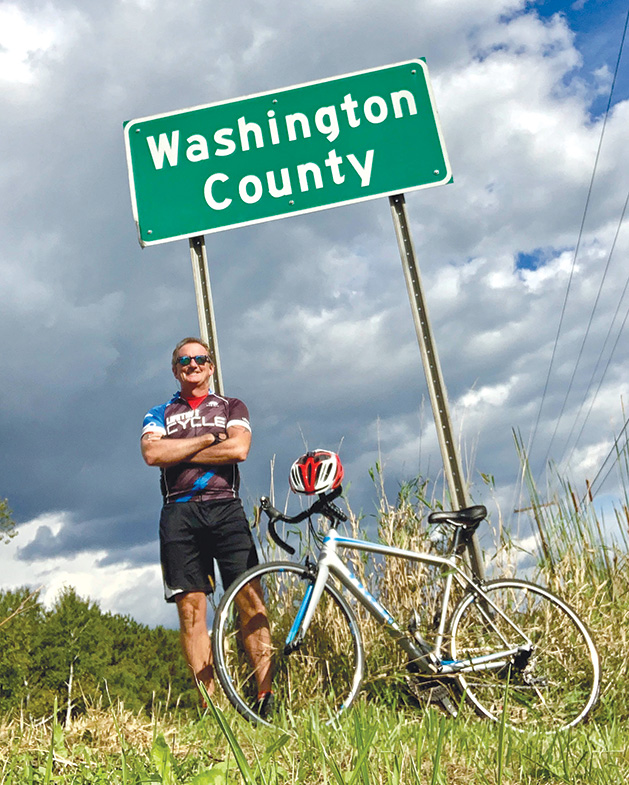 The Beginning
Stille started biking in Washington County when he and his wife moved to Woodbury in 2012. And with eight (now grown) children between the two, he had plenty of extra time on his hands. "In 2014, I started tracking my rides to get a mileage total for the year … and I would try to do more miles every year," he says. "Deciding to do every road gave me more incentive, it was motivating. It gave me a goal."
So, from the months of January and February to October, he bikes—averaging 20–30 miles every ride. He uses the Strava cycling app to track his rides and is a part of several cycling Facebook groups. He first heard of cyclists and runners who would do every street in their city in a day (the #EverySingleStreet movement), so naturally that influenced him to do every road in Washington County.
"There's a lot of hardcore bikers out there, but I'm not one of them," he says. "I'm not the fastest guy. I can't do 200 miles a day, but I can do 100 [miles]. I thought I can do this, since no one else has."
From the southern end of the St. Croix Valley to the northern tip of Forest Lake, Stille has covered it all. He began tracking in March 2014, beginning at the lower end of the county, and finished this past year, on September 20, 2019 in Forest Lake.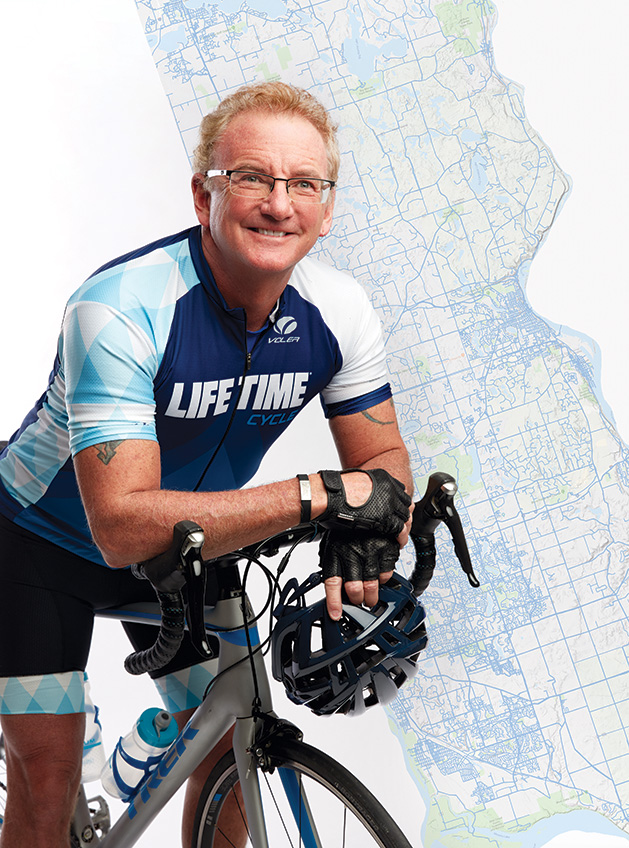 "I got done … and I was kind of like 'Oh, it's done …'" he says. Accumulating to roughly 7,000 miles, it's safe to say that he didn't get the trip done with just one bike. It took three bikes to seal the deal, with most of the cycling happening on a carbon fiber road bike (though not the easiest for dirt roads, he notes).
He managed to keep his journey quite a secret, only telling a handful of family and friends. And Stille didn't have a riding partner—"[Even though] there's a lot of bikers, no one wants to do this. It's tedious and residential… So, I did it completely solo," he says.
"Now that I'm getting back into normal, longer biking rides, it will be easier to find people who want to [bike with me]," he says. "I found guys from my church group … and there's a lot of bikers in the community. So, I'm trying to reach out."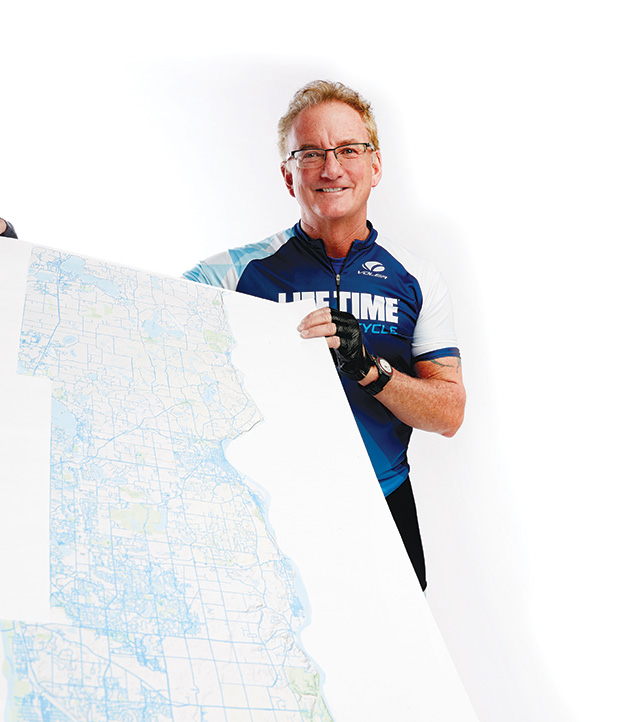 Future Quests
Though he swears he's never doing another county again (it's just too tedious!), he's already started thinking of his next journey—a cycling route that covers all six river bridges, including the Waconia, Hastings, Prescott, Interstate 94, St. Croix Crossing and the Stillwater Lift bridges.
"It's about 85 miles roundtrip, and I already have a couple of guys who want to do it," Stille says. "I'm thinking that might grow over the year and become an annual thing."
The St. Croix River marks Stille's favorite cycling spots; he says biking from Afton up to Stillwater has the most beautiful views, especially on Trading Post Trail and Stagecoach Trail. There's no traffic, plus a canopy of trees and plenty of challenging hills, he adds.
But the trail that he's biked the most is the Brown's Creek Trail and the Gateway Trail. Together the two trails connect downtown St. Paul to Stillwater and make up 24 miles of trails—plus there's no vehicle traffic, so it's safer than biking on the roads. Stille says that distracted driving is scary, so he tends to stick to bike trails.
If you're looking to get into cycling, don't be nervous. Stille says to start small before anything else—"When I first started, I was doing two miles and I thought that was a big thing …" He also recommends purchasing a nice bike, instead of a $100 or $200 bicycle. "It makes a whole difference," he says.
But no matter how intimidating it may seem, just get out there and cycle.
"My whole journey has been self-motivated. After the hip surgery, I've fallen in love with biking," Stille says. "And that's what matters to me."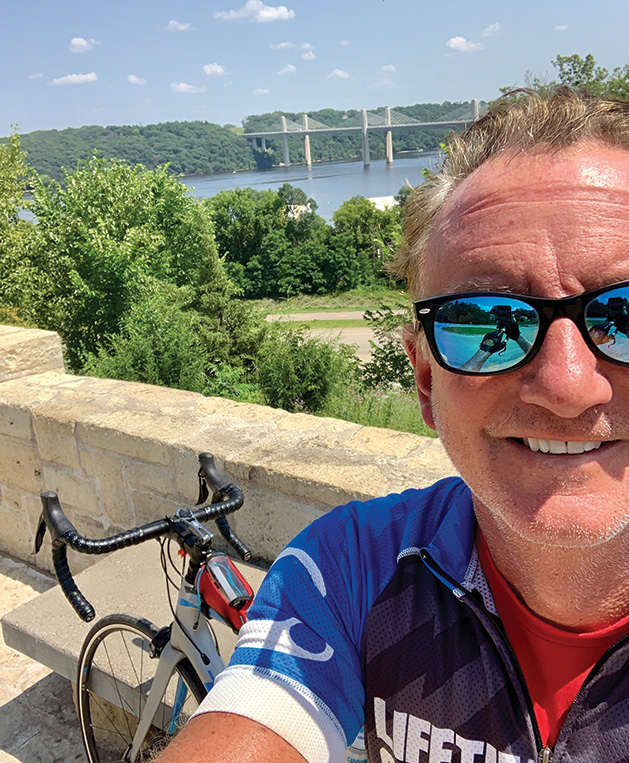 Cycle Safely in Washington County
Whether you're a driver or a cyclist, it's important to share the road by being attentive, predictable, visible and courteous—follow these guidelines from the Washington County offices.
If you're a cyclist …
Be Cordial: Bike as far to the right as possible and safe. Bike no more than two abreast (two bikes side-by-side).
Pick the Correct Lane: Use the correct turning lane, especially in roundabouts.
Be Predictable: Obey all traffic signs and signals, and ride in the same direction as traffic.
Be Seen: Cyclists are required to use headlights per state law from sunset to sunrise (even on a trail). A red reflective taillight is also required. Pedal and spoke reflectors, plus reflective clothing, will also help drivers see you.
If you're a driver …
Share the Road: Cyclists are lawful users of the road (including when trails or sidewalks are present).
Pass and Park with Care: According to state law, you must maintain at least three feet between your vehicle and a cyclist. And when parallel parking, check for cyclists before opening your door.
Don't Honk: Honking your horn may startle a cyclist and cause a crash.