Cody Kaye launched Yellow House Vineyard in 2014. After years of growing and harvesting grapes, the vineyard is starting to make its own wine.
Cody Kaye of Afton understands all too well the phrase "you only live once." In fact, after nearly losing his life in a rollover utility terrain vehicle (UTV) accident in 2012 when he was just a teenager, Kaye became passionate about planting grapevines, as a business, but also as a legacy, something that would remain long after he is gone.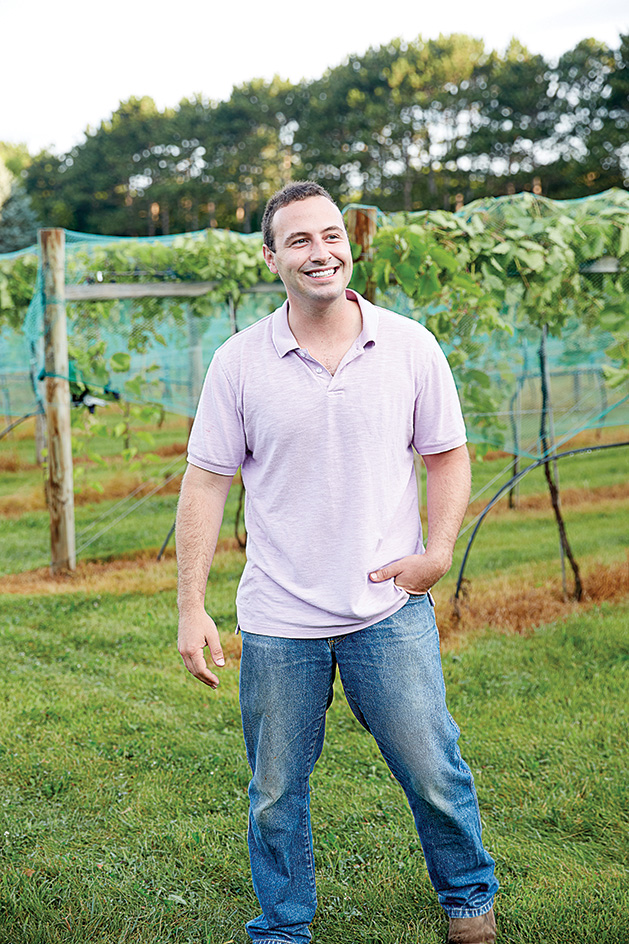 Kaye grew up in a big yellow house in Afton. His love for that home and his hometown are part of the story behind Yellow House Vineyard, a business Kaye launched in 2013. Tucked in its own micro-climate between a tree farm and one of Afton's three Bissell Mounds made of limestone, is 2.2 acres of solid grapes that Kaye planted on his family's property, just down from their yellow house.
On one side are rows of Frontenac blanc grapevines mirrored by rows of Marquette grapevines, a variety that although is reportedly cold hardy, has been considered more difficult to grow in much of Minnesota after suffering seasons of polar vortex and late frost damage. "It's a rare grape to find," says Kaye of the Marquette variety. "I know of seven growers who've given up after a decade of trying to grow it. But this is one of the best micro-climates and the top soil is eroded limestone left over from the ice age, which is the most desirable."
Much of Kaye's grape growing knowledge has accumulated from hard work and learning by doing. But he has some background in agriculture. His father owned the Afton Tree Company and Kaye has fond memories of palling around on the equipment with his dad. Kaye has also studied at the University of Minnesota (UMN) and worked with Drew Horton, an enology specialist who researches wine making with hybridized cold-climate wine grapes developed by the UMN Grape Breeding program, as well as with Annie Klodd, a UMN viticulture researcher.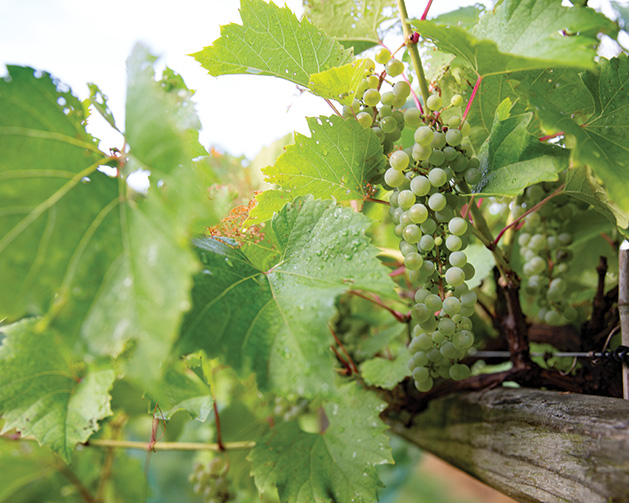 Kaye has also been learning the business side of things. In the beginning, friends were curious and volunteered to help harvest grapes. Last year, a 14-person crew hand-picked Kaye's grapes in what he estimates took 324 hours. "I got 23 pounds from a single vine last year, when many growers typically get 6–8 pounds," says Kaye. This year, with more vines producing, he estimates he'll have 40 percent more grapes to harvest in what could take up to 500 hours to hand pick. Instead, Kaye hired a commercial harvester and says it'll be done in three to five hours. "I'm learning the commercial method," Kaye says, noting the huge cost savings per acre. "It's the knowledge you gain after a few years of experience."
Up to now, Kaye has only grown and harvested his grapes while outsourcing any winemaking. But Kaye has plans to begin producing his own wine next year and hopes to host on-site events at his beautifully secluded vineyard. He's partnered with three other vineyard owners to establish the Afton Vineyard Association and has dreams of purchasing more property, to grow his business.
Kaye is only 25 years old. He has come a long way since that UTV crash in 2012. He says, "I remember being in the ambulance on a back brace and thinking, 'What am I going to do with my life?' I couldn't move. It was pretty traumatic … no more contact sports … I was on bedrest for over five months … I didn't know if I was going to be able to do this … but I knew the vines would be here a lot longer than I was, it's a sentimental kind of thing," kind of like the big yellow house.
Facebook: Yellow House Vineyard
Instagram: @yellowhousevineyard