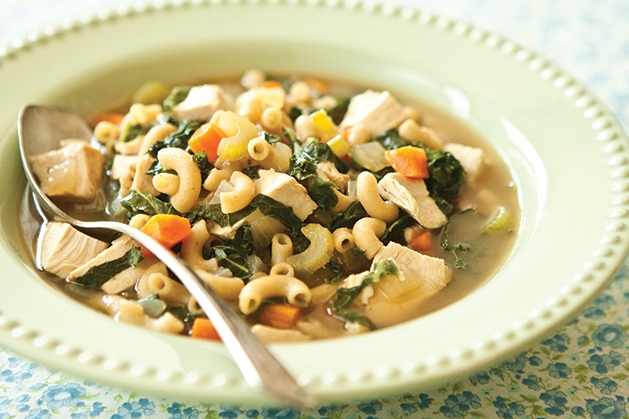 Dig in on some turkey trivia this Thanksgiving.
Somewhere, someone in your family or friend circle is already planning this year's Thanksgiving meal. This annual celebratory feast serves as an expression of gratitude and helps us connect or reconnect with loved ones around a bountiful table of nostalgia-inducing dishes. And, at the center of most Thanksgiving banquets or buffets is most often a turkey.
It's unsurprising that turkey is tops on American tables since the U.S. produces the most turkeys of any country in the world, followed by Brazil and Germany. Americans consume approximately 46 million turkeys around Thanksgiving and consumed around five billion pounds of turkey in all of 2019. That's 16 pounds per person that year!
Come closer to home and you'll discover that Minnesota has the largest number of independent turkey farmers in the nation with over 600 turkey farms and stakeholders—making Minnesota the turkey capital of the U.S. According to the Minnesota Turkey Growers Association, Minnesota turkey farmers raise between 40 and 42 million birds every year and the industry generates over $1 billion dollars in economic activity and provides more than 26,000 jobs in the state.
Minnesota Turkey Growers Association executive director Sarah Anderson says of the 600 turkey farms in Minnesota, "Some are multi-generational families. One farmer is a sixth-generation turkey grower. Imagine that, growing turkeys since the civil war era. Most are family operations with farmers who live with their flocks. This is not a hobby for them, but their livelihood," and so they're dedicated to delivering high quality.
Quality continues with Minnesota's three locally owned operators who bring the turkeys from farm to table. According to the Minnesota Turkey Growers Association's website, "Jennie-O Turkey Store, based in Willmar, Minn., allows consumers to trace their whole turkey back to the farm. Turkey Valley Farms is a grower-owned operation in Marshall, Minn., and is known for packaging as many as 100 private labels as well as antibiotic-free and free-range birds, and Northern Pride, Thief River Falls, Minn., is a cooperative of independent turkey farmers who, among other products, specialize in free-range, antibiotic-free and organic turkeys."
Anderson points out that there is U.S. Department of Agriculture (USDA) presence at each processing facility to ensure standards are met. (This monitoring could also be done by the state government so long as the consistent, stringent guidelines are met.) Did you know that it's illegal to raise turkeys with added hormones? So, you need not worry about that even if you don't purchase an organic bird.
For those who prefer to shop organic, Anderson says, "There are federal government USDA guidelines for organic certification for poultry and no farmer can just slap an 'organic' label on their product. When it comes to organic, feed is the big thing. Also, no hormones or steroids. No antibiotics is another big thing [for organic certification], although many farmers provide that."
Want to go beyond organic and purchase a free-range turkey? According to Jayson Lusk, department head and distinguished professor of agricultural economics at Purdue University, all turkeys are raised cage free, mostly in large open barns. But free-range turkey farming is also practiced in Minnesota.
Anderson says, "You can take a fun trip with the family on a Saturday before Thanksgiving, to visit a grower called Ferndale Market in Cannon Falls, and pick out your own free-range turkey … Several processors also specialize in free range, antibiotic free turkeys. Most anything you prefer is available and grocery labels should [indicate what you're getting] since it is regulated by the government."
Another fun fact Anderson shared is that some grocers provide turkeys labeled with a QR code that lets consumers track which farm raised that particular bird. The QR code can also provide a biography about the farm family for a peek into who cared for that bird. "Some folks from the East Coast contacted us about a bird they got from Minnesota," says Anderson. "This is so great because it brings home the fact that the food you eat came from a farm and that your purchase is supporting a family farm."
As for which type of turkey is the tastiest, she says everybody has a different palate and she's tried every type of turkey; toms versus hens, etc. Hens are
typically smaller. Toms are raised to larger weight and are mostly used for deli meat. "But I've found that it all comes down to prep work," says Anderson. "Make sure your bird is brined. I use the Alton Brown turkey brining recipe and have never had a bad turkey."
How you cook the bird also matters. Because no matter how you cook it, overcooking makes for tougher meat. And, for food safety, be sure to get your turkey to 165 degrees F throughout. But enough talking turkey, let's eat!
Try these recommended recipes for your Thanksgiving turkey leftovers! (Courtesy of Allison Thomas, culinary standards manager for Whole Foods Market.)
Turkey Noodle Soup
1 medium yellow onion, chopped
2 carrots, chopped
2 stalks celery, thinly sliced
2 cloves garlic, finely chopped
4 cups chicken broth or homemade turkey broth
2 sprigs fresh thyme
1 bunch kale, thick stems removed and leaves thinly sliced
2 cups whole wheat elbow macaroni
2 cups cubed or shredded cooked turkey breast
¼ tsp. ground black pepper
Heat a large saucepan over medium-high heat until hot. Add onion, carrots, celery and garlic, and cook, stirring occasionally, until vegetables are tender and beginning to brown, six to seven minutes. Stir in broth, four cups water and thyme, and bring to a boil. Add kale and macaroni, and return to a boil. Cook about five minutes or until macaroni is al dente. Stir in turkey and pepper, and cook two to three minutes longer, or until turkey is heated through. Remove thyme sprigs before serving.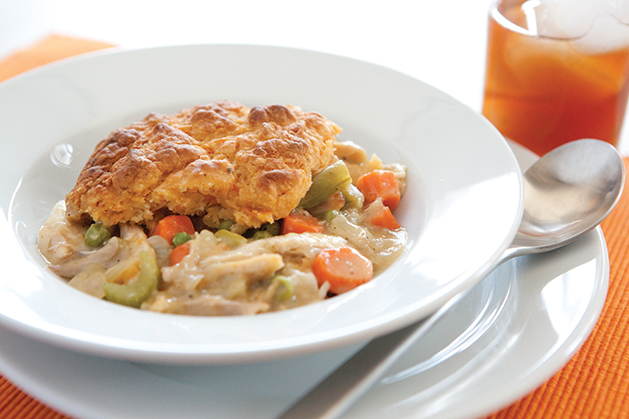 Turkey with Sweet Potato Dumplings
1 small yellow onion, chopped
salt and ground black pepper, to taste
4 cups raw, cooked or frozen chopped vegetables
1 1/2 cup all-purpose flour, divided
2 cups low-sodium chicken broth
3 cups cooked turkey, shredded
1 cup mashed sweet potatoes (or a 3/4-pound sweet potato, cooked and mashed)
2 tsp. baking soda
1 1/2 cup buttermilk
Preheat the oven to 400 degrees F. Heat oil in a large skillet over medium high heat. Add onions, salt and pepper and cook, stirring occasionally, until golden, eight to 10 minutes. Add vegetables, and cook until softened throughout, whether you use raw, cooked or frozen veggies. Sprinkle 1/4 cup flour over vegetables, stir well, and cook two minutes. Whisk in broth, bring to a boil, then reduce heat to medium low, and simmer until thickened, two to three minutes. Stir in turkey, salt and pepper; transfer to a 9×13-inch baking dish; set aside. In a large bowl, gently combine 1 1/4 cups flour, sweet potatoes, baking soda, buttermilk, 1/2 tsp. salt and 1/4 tsp. pepper to make a thick batter. Drop batter in large spoonsful over turkey mixture to form eight dumplings. Bake until dumplings are golden brown and cooked through, about 30 minutes.
Gather your friends and family around the table, and see who knows the most turkey trivia! Good luck!
How long is the incubation period to hatch a turkey egg? 28 days
What is a baby turkey called? A poult
What is a male turkey called? A tom
How many weeks does a tom take to reach maturity? 18 weeks
What is the average weight of a tom? 38 pounds
What is a female turkey called? A hen
How many weeks does a hen take to reach maturity? 14 weeks
What is the average weight of a hen? 15 pounds
Do both toms and hens gobble? No, Only toms gobble
What is the most common breed of turkey we eat today? The Broad Breasted White
How many feathers do turkeys have at maturity? 3,500
More fun facts
Astronauts Neil Armstrong and Edwin Aldrin had foil food packets containing roasted turkey and all the trimmings while dining on the moon.
Benjamin Franklin wanted the turkey, not the bald eagle, to be the official United States bird.
Surprisingly, November is not National Turkey Lovers Month. It's June!
The costume worn by Big Bird on Sesame Street is rumored to have been made of turkey feathers.
Turkey is lean, protein packed and is rich in vitamin B3 and B12, selenium, iron, zinc and phosphorus.