Farrell's eXtreme Bodyshaping strengthens community
Providing extreme support, encouragement and results in a judgement free zone, Farrell's eXtreme Bodyshaping is a boutique gym that works to empower individuals—both physically and emotionally. Offering personal training, group sessions, nutritional guidance, kickboxing classes and motivational 10-week challenges, there is a plan for any and every body.
"The goal is to create structure for people to get a holistic, full circle program that involves physical movement, mental growth and nutrition so that they can live their best lives and see body transformations," co-owner of the Woodbury and White Bear Lake Farrell's locations Jillian Faber says.
As a part of a franchise that began in Iowa over 20 years ago, the gym has since expanded nationwide, with the Twin Cities as the largest concentration of studios with over 15 locations.
Woodbury and White Bear Lake location owners Faber and Justin Gordon, opened Farrell's as a way to create a community where individuals could reach their fullest potential.
After spending several years as members at other gym facilities, Faber and Gordon said they not only lacked a sense of connection with other like-minded individuals, but also the motivation it takes to maintain consistent habits on your own. Upon discovering Farrell's in Blaine, the two instantly made the switch and sought to provide the same positive gym space for the Woodbury community. "Our focus is to get the community healthy again, [to] get the community living what we call their lives a 'Level Ten,'" Faber says.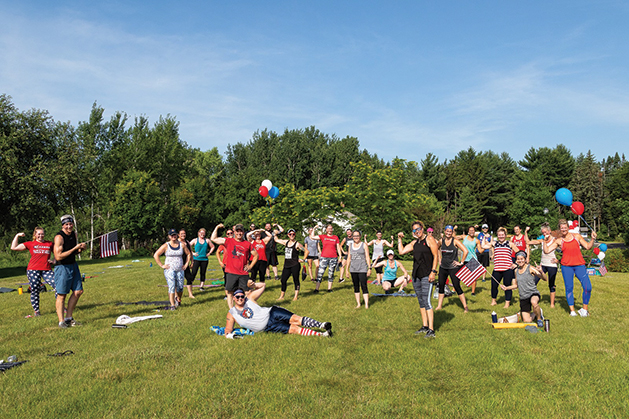 Gordon says learning these lifestyle and fitness skills in the gym helps members to realize they are capable of more than they thought, both in and out of the studio. "When you have a community of people that all have that same vision, that same drive and that same desire, I think that's what really makes it different," Faber says.
Translating this mindset into an everyday lifestyle, Faber and Gordon give back in ways that resonate with their members' hearts. "The people who come to the studio are obviously from this community … Our members are our most important thing to us," she says.
Prior to the pandemic, Farrell's scheduled a quarterly philanthropic events, since then the gym has provided a tip of over $2,000 to a food delivery worker, created a sit-and-shop Zoom event, where over 60 people helped support local small businesses and raised over $2,000 through the MS150, a 150-mile bike tour. "It is important, as a business owner, to be involved in the community," Gordon says. "[Giving back is] just what we do, we don't even think about it."
10-Week Challenges
Offered quarterly (January, April, July and October), these 10-week challenges work to establish consistency, a sense of accountability and personal growth physically and mentally for every individual. Committing to five-to-six days a week for 45 minutes a day, alongside other challenge-goers, this program is built on kickboxing, strength training and nutrition unique to you and your body. Following the challenge, members are encouraged to continue the momentum and set new goals in their fitness journey.