Discover some of our favorite places to picnic and get the insider's scoop on picnic basket necessities.
Summer provides lots of opportunities to explore the outdoors and enjoy a tasty picnic under the sun. There are a plethora of scenic locales just down the road in the St. Croix Valley to lay out that checkered blanket and basket. Discover some of our favorite places to picnic and get the insider's scoop on picnic basket necessities.
Perched on the bluffs along the Minnesota–Wisconsin border, it's no surprise that Interstate State Park is a great place to picnic. Awaken your intrepid spirit by climbing the cliffs of the St. Croix River Dalles. Splash through the river in a canoe or kayak. Then relax on the river's edge. Set up your picnic on a rock to enjoy the views, or trek back to base and enjoy your meal at one of the park's picnic tables.
Park hours: 8 a.m.–10 p.m.; 307 Milltown Road, Taylors Falls, Minn.; 651.465.5711 
Stretching across almost 600 acres, there is no shortage of space for exploration at St. Croix Bluffs Regional Park. Boasting wooded ravines, rolling upland prairies and bluffs, this regional park is lovely place to spread out a summertime meal. Then check out the breathtaking views of St. Croix River's shoreline while you travel along the winding path. If you want to extend your stay, there are a number of campsites available to rent.
Park hours: 6 a.m.–10 p.m.; 10191 St. Croix Trail S., Hastings, Minn.; 651.430.8240
Follow the sounds of a roaring waterfall and find yourself at Willow River State Park. With over 300,000 visitors a year, this park offers something for everyone. Enjoy a hike to the beautiful Willow Falls and relax to the lullaby-like sounds of nature. Pack your fishing gear and head to the lake to try your luck at catching a northern pike or smallmouth bass. When you're ready for a picnic, grab a seat at one of the many picnic tables to enjoy your packed feast. Don't forget to make a stop at the Nature Center, featuring animal and plant life!
Park hours: 6 a.m.–11 p.m.; 1034 County Highway A, Hudson, Wis.; 715.386.5931
With camping, canoeing, an overlook to the Nevers Dam and various wildflowers, Wild River State Park gives visitors a flavor of a serene, peaceful setting. There are 35 miles of trail to explore, and travelers are encouraged to find the Sunrise Landing to watch the beautiful river teeming with wildlife while enjoying a summertime meal at the picnic area.
Park hours: 8 a.m.–10 p.m.; 39797 Park Trail, Center City, Minn.; 651.583.2125
Perfect for young families, pair your picnic with some playtime at Teddy Bear Park—with larger-than-life teddy bears to keep the kids company. Enjoy a pint-sized picnic at one of the park tables or in the gazebo. This park has multiple slides and other play equipment perfect for kiddos under 7.
Park hours: 8 a.m.–8 p.m.; 207 Nelson St. E., Stillwater, Minn.; 651.430.8837
For picnic goers who appreciate a glass of wine with their basket of food, St. Croix Vineyards offers up its picturesque vineyards. Visitors are encouraged to enjoy the award-winning wine while picnicking on the deck, at picnic tables or on a blanket in the vineyard itself. With an extensive list of red, white and dessert wines, the vineyards are a lovely place to class up your picnic. Sample wines that pair well with your packed snacks, enjoy live music or take a stroll through the beautiful vineyards.
Hours: weekends, 10 a.m.-6 p.m.; 6428 Manning Ave., Stillwater, Minn.; 651.430.3310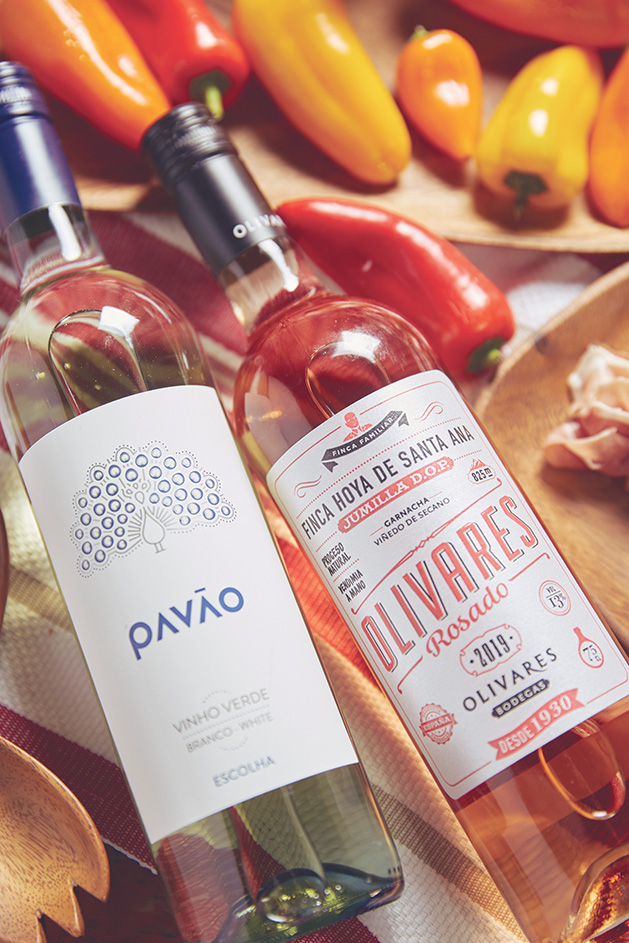 Packing the Perfect Picnic Basket
Once you decide on a picnic location, pack your picnic basket with foods that are both delicious and nutritious. It's easier than you might think. Culinary and branding director for Kowalski's Market Rachael Perron offers tips on what to pack from straight from the grocery store aisles.
Make your picnic an elegant French affair by packing "a great baguette or loaf of Artisan Bread, some soft ripe cheese [and] some ham," Perron says. "Kowalski's Brie is rich, buttery and the perfect size for tossing in your basket." Swing by the wine shop to grab a bottle (or two) of wine, and you are ready to go! (Just be sure your picnic locale allows alcohol.)
"There are [also] nearly endless Grab & Go options in [Kowalski's] deli department–sandwiches, wraps and picnic size salads including potato salad, slaws and pasta salads," Perron says. She advises picnic goers to stop by the specialty cheese case to pick out a delicious cheese and cracker combination. Or stray from the basics with top picks from the meat department like smoked salmon and fully cooked cocktail shrimp.
Be sure to include some fruit and vegetables in your basket. Because of how refreshing and hydrating they are, Perron favors the "prepared melon spears and cut mango because they're easier." As for vegetables, the "mini sweet peppers with Kowalski's Sriracha dip" are Perron's favorite. Be sure to save room for dessert! Pack a sweet treat like Kowalski's chocolate chunk cookies or sea salt caramel brownies.
If your taste buds are feeling as adventurous as your body, try Kowalski's Ka-Pop!—"it's a popped sorghum snack that's all natural, invented by [Dustin Finkel], a former Minnesotan," says Perron. While her personal favorite flavor is salt & vinegar, Perron says that the cheddar "tastes exactly like puffed cheese snacks you ate as a kid."
Kowalski's
8505 Valley Creek Road
Facebook: Kowalski's Markets
Twitter: @kowalskismarkets
Pinterest: Kowalski's Markets
Instagram: @kowalskis_markets