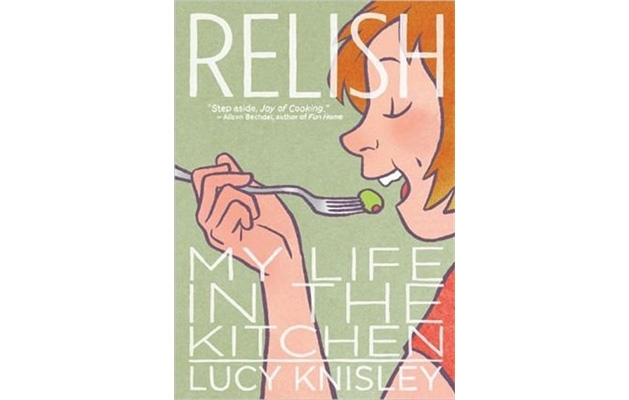 Dive into Lucy Knisley's memoir.
Lucy Knisley knows a great deal about two things: food and comics. Her two passions perfectly align in the graphic novel style memoir Relish.
Knisley was raised by foodies in New York in the '80s and loved watching her uncle cook in his shop. She quickly grew accustomed to the finer things in life, like marinated lamb at family cookouts and crème brulee as her birthday dessert. When her mom abruptly moves the two of them into upstate New York after a divorce, Knisley is shocked. She misses the busy city and exquisite eating options.
In time, Knisley starts harvesting berries and growing vegetables, which changes her relationship with food. She discovers a newfound appreciation for the work that goes into farming, and the tasty benefits one can reap after harvesting.
If you're hesitant about graphic novels, this one is easily accessible! Knisley uses colorful blocks and speech bubbles to examine how food unites people. She also includes a few recipes per chapter drawn as comics. If you're passionate about food (or simply enjoy eating), this is a deliciously fun read. Keep a snack on hand!
Margaret Gardner is the senior library manager at R.H. Stafford Library in Woodbury. Margaret lives in the Twin Cities with her husband who bakes bread and dog who occasionally eats books. To browse the library's collection and check out events for all ages, visit washcolib.org.