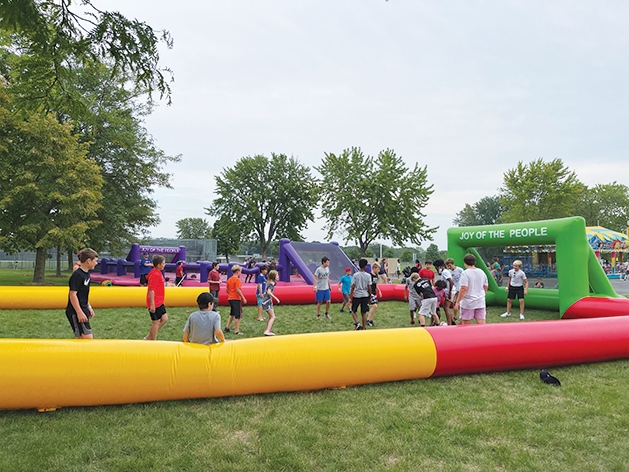 Joy of the People brings futsal and fun to Woodbury.
Playtime has gotten substantially more fun with Joy of the People (JOTP), a nonprofit leading the way for play with a cutting-edge opportunity to build healthy kids and communities through free play. Operating in St. Paul for 12 years, JOTP renovated the former Wooddale FunZone building in 2021 for its second Minnesota location.
Ted Kroeten and Victor Kasanezky, friends and original soccer players from the Minnesota Thunder, a professional soccer team, co-founded JOTP when they felt youth soccer had become too competitive and too disruptive.
"We were looking at it from the lens of development—wondering where the good players were that should be coming up, but you could look at it from all different lenses like status, elitism, exclusion, pricing kids out of programs, travel, etc.," says Kroeten, JOTP artistic director. "We thought kids needed more unstructured, free play."
When the opportunity came up for the recreation center in St. Paul, they formed JOTP, naming it after Brazilian soccer player Mané Garrincha, who was so fun to watch that people called him Alegria do Povo, meaning "joy of the people."
They set up spaces for kids to initiate play and focus on the tradition of real or street play of soccer. "We understand we're losing play with our kids and most play for kids these days is guided by adults," Kroeten says. "But in true play, it's guided by the kids, and it's a language they need to learn to speak—an original proto-language that helps us in ways like communication, coordination, cooperation, executive function, how we invent things, how we create systems, creativity and art …"
JOTP puts a low level of emphasis on competition and a high level on play, which builds ability and skills. "What we found is that you don't need elite travel and super high competition to develop a real fluency in soccer and in sport," Kroeten says. "You need a good environment, you need friends and some of the best practices, and that's what we provide. We're trying to create a better, more sane youth sport experience for kids."
With fun at the forefront, JOTP's innovative sports programming includes free play, inflatables, soccer, outdoor turf and sand, youth and adult leagues, camps, plus the Twin Cities' first adult futsal leagues, a fun and skillful Brazilian indoor version of soccer. Daily morning play for pre-kindergarten ages provides safe resources to allow younger children to play indoor while parents have coffee and work on their laptops within eyesight of their kids (or play with them, too!).
As for the building? As it turns out, roller rinks are still groovy. "When we saw this space, we were attracted to the roller rink side because it had everything a child needs—music, friends, fun things to do [and] food. The building was colorful, and it had a surface perfect for futsal," Kroeten says, also answering the question to what we all want to know—yes, the disco lights and DJ booth are still spinning! Kids like the hangout spaces to kick back and watch games or visit the food service area. "It's just got a lot of feng shui to it," he says.
Woodbury native Brian Kallman is the director of play at Woodbury JOTP, and his professional soccer career in Minnesota spans nine years. He played against many top-level teams, including Major League Soccer teams: Sporting Kansas City, Real Salt Lake and San Jose Earthquakes; English Premier League's Swansea City; and Liga MX's Club Leon.
Kroeten acknowledges Woodbury has exceptional soccer clubs with accomplished people leading them. At JOTP, parents will see opportunities for kids to build competencies, enjoy their sport in play and not worry about competition or not being with their friends because they're on another team.