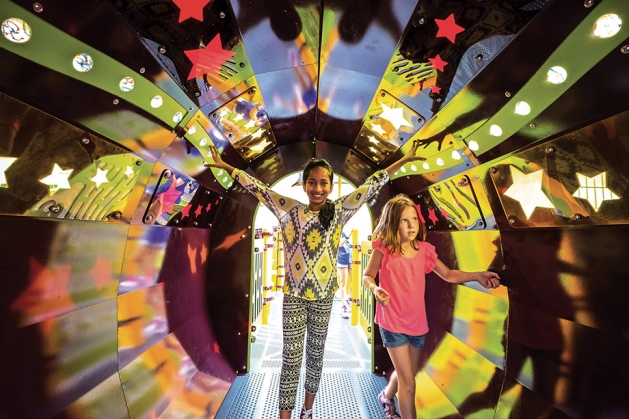 Take a day to play at these spaces around town.
A summer day. A rainy day. A winter break day. No matter what the reason, there's always room for play—and these spots are some of the best play areas around town. So pack a lunch, grab the kids and head out for a play date.
Central Park
Head over to the R.H. Stafford Library for an urban jungle. Central Park—complete with a 16-foot waterfall, an indoor garden and walking paths—is a great space for a tranquil day. It's also attached to the library, the YMCA and Lookout Ridge, and filled with several seating areas,
an amphitheater and more.
Central Park hosts a variety of events, including performances in the park and movies. 8595 Central Park Place; 651.714.3799
Lookout Ridge Indoor Playground
This outdoor-themed park, located inside the R.H. Stafford Library, is designed to look like the neighboring St. Croix Valley and includes several types of play equipment. Geared towards those 12 and under, kids can climb inside the cliffs and head down the mountain spiral slide or climb to the top of the treehouse and race down a 30-foot slide—talk about a thrill!
Lookout Ridge is available to reserve for birthday parties, so gather your crew and celebrate your big day. Happy climbing! 8595 Central Park Place; 651.414.3434
Madison's Place Playground
Woodbury is home to a one-of-a-kind playground that's accessible to all. Madison's Place Playground, created by the Madison Claire Foundation, officially opened in summer 2016 and is the Twin Cities' east Metro's first inclusive play space. The 16,000-square-foot space is located near the M Health Fairview Sports Center and is complete with several accessible play equipment pieces, including a sensory-stimulating Sway Fun Glider, xylophone panel, zipline and more. 4125 Radio Drive; 651.714.3740
Ojibway Park
For families with a variety of age ranges, Ojibway Park is for you! The newly renovated park, home to the annual Woodbury Days celebration and the summer Starlight Cinema, features a bandshell, indoor restrooms, picnic tables, a playground, skate park and more.
The nature-themed playground includes swings, climbing equipment, while the skate park has several types of ramps, rails and more. Ojibway Park also features ice hockey rinks and cross-country ski trails in winter. 2695 Ojibway Drive; 651.714.3583
Splash Pad
Head over to the Splash Pad at Madison's Place Playground on a hot, summer day. Featuring two platforms with dumping buckets, nozzles, flower showers and more, the Splash Pad welcomes kids of all ages and abilities to have fun in the sun. The pad encourages water conservation through its equipment, which turns off every four minutes to reduce water usage, and drains excess water into a nearby stormwater pond used to irrigate outdoor fields at M Health Fairview Sports Center. 4125 Radio Drive; 651.714.3740