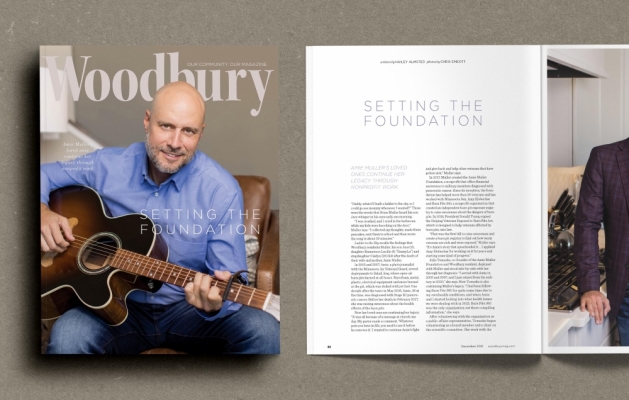 Growing up, I was blessed enough to have family get-togethers complete with a large holiday meal and opening presents around the Christmas tree. I recall opening gifts and being thankful for each one. I also remember wondering about the families and children who weren't as fortunate. This thought ultimately began my desire to give back.
I first began service work after enrolling in the AVID program at Woodbury Middle School, and I continued volunteering throughout my time at Woodbury High School and the University of Minnesota. Whether it was serving meals to those in need at St. Paul's Dorothy Day Center, tying blankets together for the Animal Humane Society and the Children's Hospital, or putting together meals at Feed My Starving Children, I felt—and still feel—the need to give back to, not only my community, but those around the world.
In this issue of Woodbury Magazine, we're focusing on giving back. On page 26, writer Ava Diaz shares the mission of Woodbury-based construction company SpaceTurtle Construction. Co-owners Cody Kupitz and Marie Brenden say it was a "no brainer" to donate proceeds to the Animal Humane Society, with Brenden noting, "It was a commitment we wanted to make."
I talk with Woodbury residents Brian Muller and Julie Tomaska who share the legacy of Amie Muller. Prior to her death, Amie began raising awareness of how burn pits have affected soldiers deployed to Iraq and Afghanistan, and Brian and Julie are continuing to spread that awareness. "She was a beautiful face with an amazing smile and a light to her," Brian says. Read the full feature on page 32.
We're also sharing all things sweet—you could say it's this issue's icing on the cake! Ava Diaz features Woodbury's newest delectable shop—Crumbl Cookies—on page 12. And on page 44, writer Hilary Kaufman chats with Woodbury local Jessica Van Hemert of Haute Chocolate. She shares her baking tips and ideas, talks how to get kids in the kitchen and shares a few sweet recipes.
Happy December and happy holidays, readers. I'll see you in 2022!
Hailey Almsted