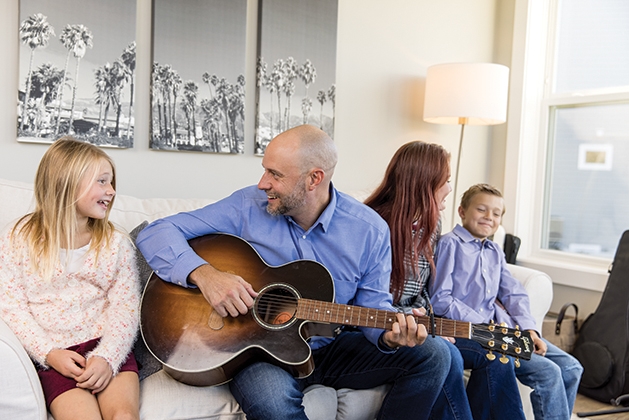 Brian Muller's Song "Ladder to the Sky" Provides Funding for the Amie Muller Foundation, BurnPits 360 and Growing Through Grief.
"Daddy, what if I built a ladder to the sky, so I could go see mommy whenever I wanted?" Those were the words that Brian Muller heard his son Jace whisper in his ears early one morning.
"I was crushed, and I cried in the bathroom while my kids were knocking on the door," Muller says. "I collected my thoughts, made them pancakes, sent them to school and then wrote the song in about 30 minutes."
Ladder to the Sky recalls the feelings that Woodbury residents Muller, his son Jace (9), daughter Emmerson Lucille (8; "EmmyLu") and stepdaughter Caidyn (20) felt after the death of their wife and mother, Amie Muller.
In 2005 and 2007, Amie, a photojournalist with the Minnesota Air National Guard, served deployments to Balad, Iraq, where open-air burn pits burned at all hours. Styrofoam, metal, plastic, electrical equipment and more burned at the pit, which was stoked with jet fuel. One decade after the tours in May 2016, Amie, 36 at the time, was diagnosed with Stage III pancreatic cancer. Before her death in February 2017, she was raising awareness about the health effects of the burn pits.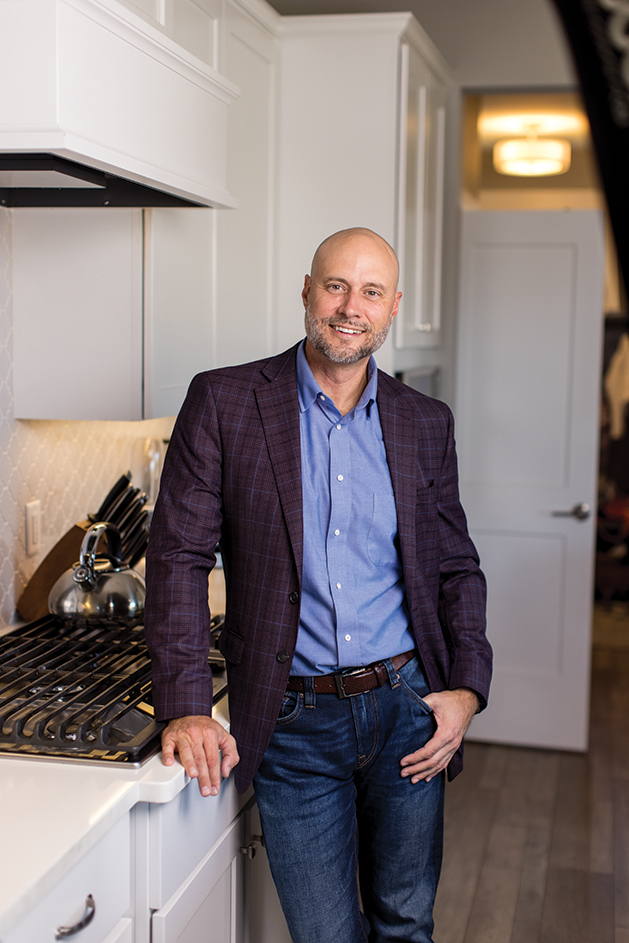 Now her loved ones are continuing her legacy. "It was all because of a message at church one day. My pastor made a comment, 'Whatever pain you have in life, you need to use it before he removes it.' I wanted to continue Amie's fight and give back and help other veterans that have gotten sick," Muller says.
In 2017, Muller created the Amie Muller Foundation, a nonprofit that offers financial assistance to military members diagnosed with pancreatic cancer. Since its inception, the foundation has helped more than 20 veterans and has worked with Minnesota Sen. Amy Klobuchar and Burn Pits 360, a nonprofit organization that created an independent burn pit exposure registry to raise awareness about the dangers of burn pits. In 2018, President Donald Trump signed the Helping Veterans Exposed to Burn Pits Act, which is designed to help veterans affected by burn pits, into law.
"That was the first bill to raise awareness and create a burn pit registry to find out how many veterans are sick and were exposed," Muller says. "It's Amie's story that spearheaded it … I applaud Amy Klobuchar for working on it for years and starting some kind of progress."
Julie Tomaska, co-founder of the Amie Muller Foundation and Woodbury resident, deployed with Muller and stood side-by-side with her through her diagnosis. "I served with Amie in 2005 and 2007, and I just retired from the military in 2020," she says. Now Tomaska is also continuing Muller's legacy. "I had been following Burn Pits 360 for quite some time due to my own health conditions, and when Amie and I started looking into what health issues we were dealing with in 2013, Burn Pits 360 was the only organization out there compiling information," she says.
After volunteering with the organization as a public affairs representative, Tomaska began volunteering as a board member and a chair on the scientific committee. Her work with the organization led to the connection with Jon Stewart, TV host and political commentator.
"Rosie Torres, who founded Burn Pits 360, reached out to John Feal who runs the [FealGood Foundation] that dealt with first responders from 9/11 and their health issues … After 9/11, Jon Stewart gave a speech about the inhalation, and they partnered up to get bills passed to help those first responders," she says, noting that, for two years, the organizations have been working with Stewart to ensure veterans get the help they need.
"Julie has been working closely with Jon Stewart … who started his own show again named The Problem with Jon Stewart. The first episode is involving burn pits, and it's huge that he chose that to be on the first show," Muller says. "We're hoping to [create]* the presumptive and make sure that veterans don't have to prove anything. If they were in Iraq or Afghanistan during this time and they get cancer, then they should get benefits."
Jace, 6 years old at the time of Amie's death, was Muller's inspiration for Ladder to the Sky, one of nearly 50 songs that he wrote after her death. He recorded the song, held a single-release party and donated nearly $6,000 in 2021. "It's a very special song, and every child who has lost someone can relate to it," he says, noting that Jace also wanted to use the song for something good. Muller, who has been told that he has a gift for writing emotion-provoking songs, has been composing since he was 15 years old.
"My dad bought me a guitar and a DVD series on how to play guitar … My mom was diagnosed with ovarian cancer when I was 14, and my dad came home and told me the doctor said my mom wouldn't see me graduate from high school … I wrote my first song, titled That Day, and I haven't stopped writing since," he says.
The funds raised from Ladder to the Sky were donated to the Park Nicollet Foundation's Growing Through Grief program. "I told [the foundation] I'll do what I can to raise awareness, whether that's being at events or speaking to crowds," he says, sharing how grateful he is toward the program, which Jace and EmmyLu have been in for three years. 
Although there have been several veterans who have experienced similar diagnoses after burn pit exposure, Muller says Amie's story stuck for a different reason. "She was a beautiful face with an amazing smile and a light to her," he says. "She was a young woman who left behind a family and small children … It was hard to have her death be public, but because of the publicity, it spearheaded this change and positive development." 
Ladder to the Sky can be streamed on all major music platforms or at playitforward.com/projects/341, where listeners can purchase a downloadable version of the song by donating to the Growing Through Grief program.
Growing Through Grief
When Katy McCourtney experienced the death of her father at a young age, she didn't have the proper resources to process her grief. At the age of 29, she tragically died. Her family created the program through the Park Nicollet Foundation in 1997, a school-based grief support and crisis management group.
"The program started at Jace and EmmyLu's school, and it made them, and other kids, comfortable to learn about grief," Muller says.
The program is in South Washington County Schools (SWCS) and offers in-school, no-charge support to students in elementary, middle and high schools going through the death of a loved one. Services include weekly peer support groups, private counseling, crisis support, faculty education and referrals.
"This ongoing developmentally designed support for students makes a difference in their social, emotional and academic wellbeing," says program manager Nicole Barnes. "Every unique grief student does better with support."
By the Numbers in 2020:
5,565: Hours of support provided to students and parents
3,500: People received grief education and training
627: Students supported through individual and group counseling
Moreover, student outcomes from the virtual program have skyrocketed during the pandemic.
99 percent: Improved coping skills
97 percent: Improved knowledge of the grief process
87 percent: Improved ability to concentrate in school
79 percent: Improved grades
If your child or someone you know needs grief services, contact SWCS Growing Through Grief counselor Joan Boevers at joan.boevers@parknicollet.com.