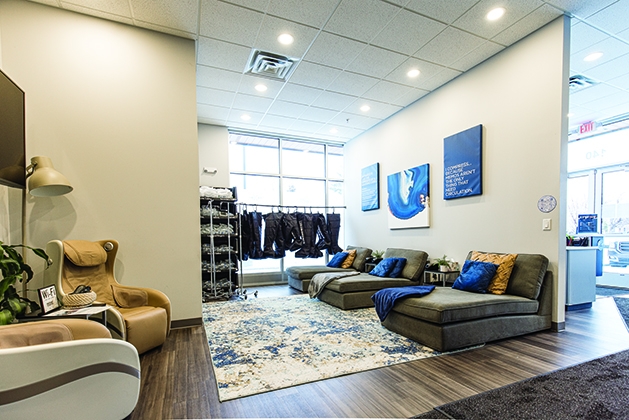 Restore Hyper Wellness specializes in different forms of holistic therapy.
From the studios in Hollywood to the famed pages of Instagram, it seems as though IV therapy is an A-list celebrity move. But for those of us without VIP status, there's Restore Hyper Wellness.
"We've coined the term 'Hyper Wellness,' and what that is and our goal is finding different alternative therapies … that will help the body naturally do what it already wants to do, which is heal and recover," says Katie Etzold,  store manager of Woodbury's Restore Hyper Wellness.
Started in 2015 in Austin, Texas, Restore jumped on the wellness bandwagon before it was streamlined. It wasn't until 2019 that Woodbury's location opened, which Etzold says is an ideal community due to its number of fitness studios and residents living a healthy lifestyle.
Its three categories of services include Restore Core Services, Wellness and Esthetician Services. "The core services are cryotherapy, red light therapy and infrared saunas. Wellness includes our hyperbaric oxygen therapy and IV therapies and our specialty esthetician services include hydrafacials, cryo facials and more," Etzold says, noting that the dominating services include IV therapies, oxygen therapy and red-light therapy. But what exactly are these different types of holistic therapies?
IV Therapies
"A lot of people think they can't get IV therapy because it's a bougie, A-lister lifestyle," Etzold says. "But it's so beneficial for a lot of people."
Restore offers several types of IV drip therapy—including premade drips and custom drips—that are performed by registered nurses. "We help people to hydrate, and we have a whole menu of ingredients, different vitamins and minerals that we cater to each client depending on their needs," Etzold says. Each service lasts anywhere between 45 minutes to an hour and a half, depending on "how long you take to drip," she says.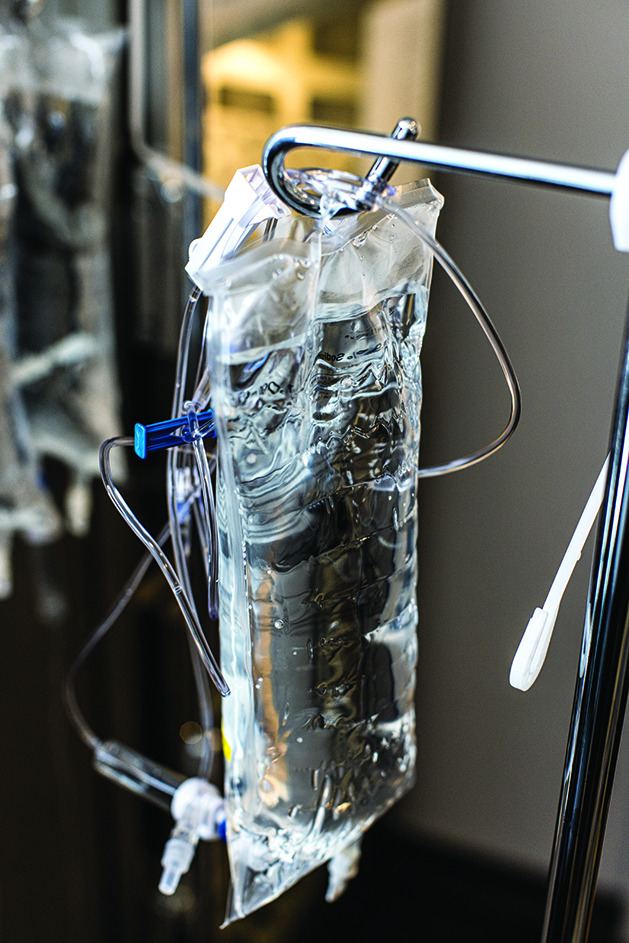 IV drips assist in a number of things, Etzold says, including weight management, feeling energized, detoxing, building immunity and more, plus there's numerous vitamins/minerals to be added to drips, such as B12 vitamins for energy building or biotin for skin/hair.
For those who don't have an extra hour to spare, Etzold recommends Restore's intramuscular (IM) shots, injections that offer similar benefits from IV drips without the time commitment. With options ranging from vitamin D or vitamin B complex to detoxifying glutathione, there's a variety of options.
Mild Hyperbaric Oxygen Therapy
"It's so interesting when people do tours of Restore because they come in the back where our hyperbaric chamber is, and it looks so unique," Etzold says, explaining how customers lie down horizontally in the chamber, which zips up and seals you in.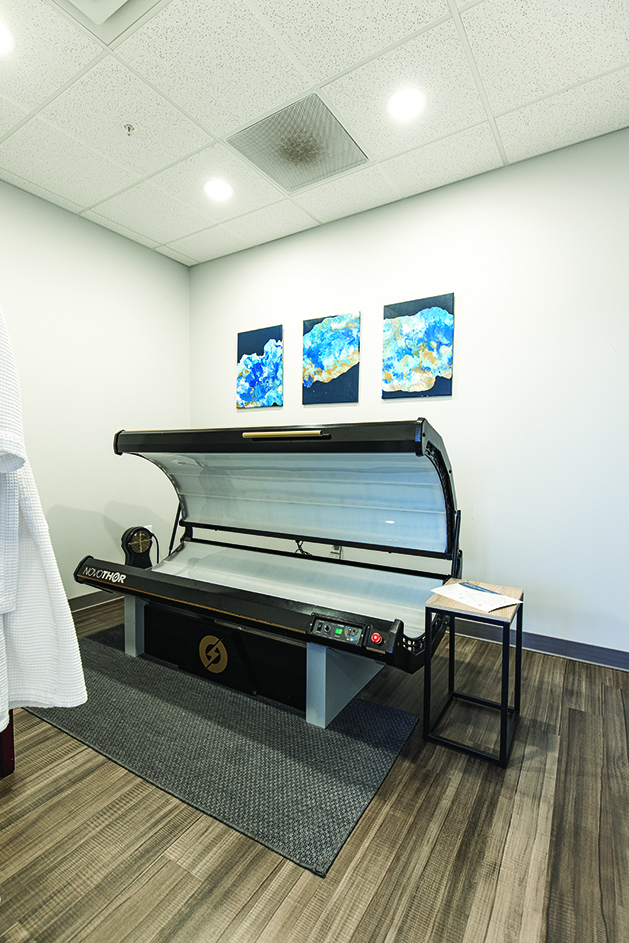 The goal of the hyperbaric chamber is to increase the level of oxygen in your body, which can assist in optimizing sleep, athletic recovery, repairing muscles and boosting cognitive clarity. "… We're taking in 20 percent oxygen usually, so we're getting it but not absorbing as much as in the chamber, where you get 90–95 percent oxygen," Etzold says. "Your brain really loves that high-enriched oxygen. It's good for circadian rhythm, PTSD, sleep … I've used it. I was in the military, and my friends with PTSD use it and also say that it helps with sleep …"
Red Light Therapy
Using red and infrared wavelengths, red light therapy, also known as photobiomodulation, can improve energy, relieve inflammation and optimize sleep while also helping to even out skin tone. "It's also called a happy light," Etzold says, noting that red light therapy is especially beneficial to Minnesotans, who live through harsh winters.
Sessions last 12 to 20 minutes and can be used up to five times per week.  It's used by athletes to reduce soreness or those looking to balance their moods. It can also stimulate collagen production in the skin, leading to more firm skin. "It's so good after workouts in the winter and really daily," Etzold says. "Once you've done it, you understand. It's easy."
Restore Hyper Wellness, 720 Commons Drive Unit 140; 651.493.0428  
Facebook: Restore Hyper Wellness (Woodbury, MN)
Instagram: @rhw_woodburymn