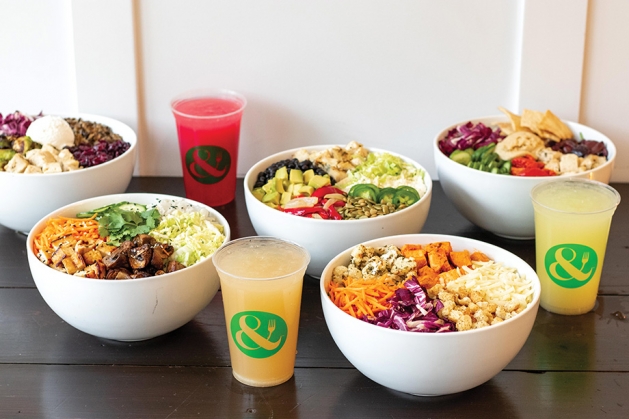 Crisp & Green brings build-your-own salads and more to the community.
When Crisp & Green founder Steele Smiley sold his Steele Fitness brand in 2004, his noncompete meant he had to give up the world of fitness. "Healthy eating was really the only other business I knew very, very well," Smiley says. "So going with healthy eating was very natural for me."
The idea for Crisp & Green, a fast-casual restaurant specializing in salads, grain bowls and smoothies, came from Smiley's own lackluster experience finding fast, healthy food options for himself. "I'd go to the local grocery store, and I would get a salad through the salad bar, which at the time was $20," Smiley says, noting that was far too expensive. It was at this point he decided to build his own brand and "dive in head first."
Crisp & Green opened its flagship location in 2016 in Wayzata, next to where Smiley opened his first gym over a decade before. From the jump, the concept was popular, which Smiley attributes to his time in fitness. "I'd never opened up a restaurant before but to some degree, never having opened a restaurant gave me a competitive advantage," he says.
"I rewrote the rules on how to do it."
In Smiley's view, the old restaurant playbook of "open your doors and wait for people to show up" isn't enough anymore. "I think you ultimately have to engage in the community," Smiley says. "I couldn't charge for fitness, so I decided to give away fitness in all of my stores."
Now, nearly every day across Crisp & Green locations nationwide, the restaurant provides people with the opportunity to further their fitness goals through complimentary classes and fitness events. Whether it's a smoothie or açaí bowl after class is up to the customers, Smiley says. For him, fitness is his gift back to the community.
Fitness hasn't been his only gift. Recently, Smiley has embarked on a project to bring commissioned art to his storefronts, starting with his Wayzata stores. "This is a personal endeavor of mine through the foundation," Smiley says. "People will have the opportunity to have a local artist do something special either outside on the wall or maybe inside."
There's still a hint of fitness about these art installations too, encouraging pedestrian traffic to visit photo-worthy walls in their own neighborhood. "It's something I feel very strongly about," Smiley says. "About our ability to give back to the community, not just through health and wellness but also through the visual arts, which is where my personal passion lies. It's nice to be able to do that."
Putting Down New Roots
From less than 10 locations in early 2020, Crisp & Green has since grown to over 175 stores either already built or currently in development. One of these new spots opened in Woodbury this April at the Valley Creek Plaza. "The answer to 'Why Woodbury?' is kind of the obvious," Smiley says. "We've had over a thousand people either direct message us [or] send us emails asking for a location in Woodbury."
Smiley says that the community is such a wellness hub already that opening a Crisp & Green felt like a no-brainer. And where a Crisp & Green opens, it's safe to say a Stalk & Spade will soon follow.
Stalk & Spade is a plant-based burger, chicken and ice cream fast-casual concept that launched in April 2021. "It's your classic McDonald's from the 1960s—you know, when McDonald's used to be great—remixed and all plant-based," Smiley says.
With lower calories and higher protein content than traditional fast-food spots, Smiley says the idea for Stalk & Spade grew out of his own craving for fast-food favorites. "I've been plant-based since January 1, 2014," Smiley says. "I'm certainly making it a lot easier to eat the classic favorites that I miss," he says, noting that he ate his last hamburger from a chain in 2013. "It's nice to have that variety, and I think people want to have different options and know that they're healthy."
From classic cheeseburgers to chick'n nuggets, Stalk & Spade's menu appears to have given even carnivores a run for their money. "We're very fortunate our first Stalk & Spade location has been so incredibly busy, the one in Wayzata," Smiley says, referencing the location less than a hundred feet from his two previous businesses on Lake Street. Its popularity sees Stalk & Spade expanding to North Loop and Edina this spring, with a Woodbury location to follow shortly, Smiley says.
New On the Block
Crisp & Green isn't the only new restaurant Woodbury has to look forward to. Smiley says his most recent restaurant venture, Paco & Lime, will open its doors to the Woodbury community within the calendar year.
"Paco & Lime essentially is built to be a modern-day version of Chipotle," Smiley says. "I'm not alone in the sentiment that Chipotle has gone far too long without a national competitor …"
Paco & Lime looks to take over where the fast-casual Tex-Mex brand has left off, but like Crisp & Green and Stalk & Spade, its menu will be a health-focused one, featuring both meat
and plant-based meat burritos, bowls, tacos and more.
"We expect that to be our fastest-growing brand that we've ever had," Smiley says, noting that they've already sold franchising agreements before so much as opening their first location.
Bowl Boost
Smiley says something else to keep an eye out for is the launch of Crisp & Green's new açaí program. "One of the challenges with açaí in general, what most people don't realize, is it's incredibly full of sugar," Smiley says.
The Instagramable "sugar bowl" is getting a remix at Crisp & Green to create a lower-calorie option, which will be launched at the new Woodbury location. "It actually tastes the same, looks the same, visually has all that excitement to it, but it's just a better-for-you product," Smiley says.
Crisp & Green
7030 Valley Creek Plaza
Facebook: CRISP & GREEN
Instagram: @crispandgreen